---
How do I log on to CallPilot
Launch a web browser (IE) on your PC, or on the CallPilot server (both must be connected to the ELAN). Enter CallPilots IP address in the URL window, and append /cpmgr to it. When the connection is established, the CallPilot Manager - Login page appears.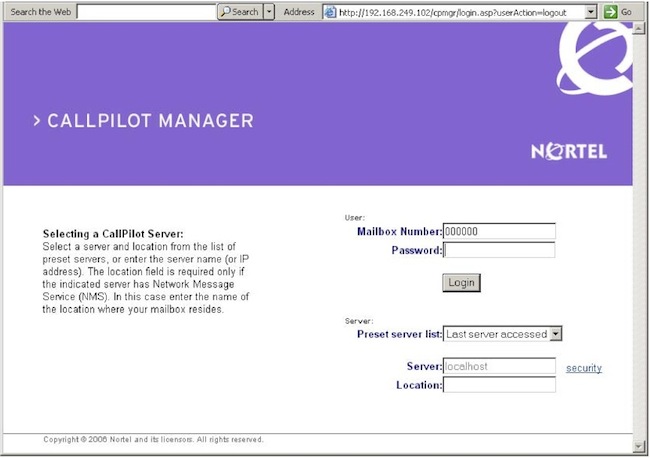 Note:
The URL automatically appears as http://<host name or IP address>/cpmgr/login.asp
On the CallPilot server, the URL is http://localhost/cpmgr/login.asp
To log on...
Enter the administration mailbox number (000000) and password (124578)
choose the Last Server Accessed item, or enter the address manually
Type the CallPilot server host name or IP address in the Server box.
If the logon details are correct, the CallPilot Manager screen is displayed: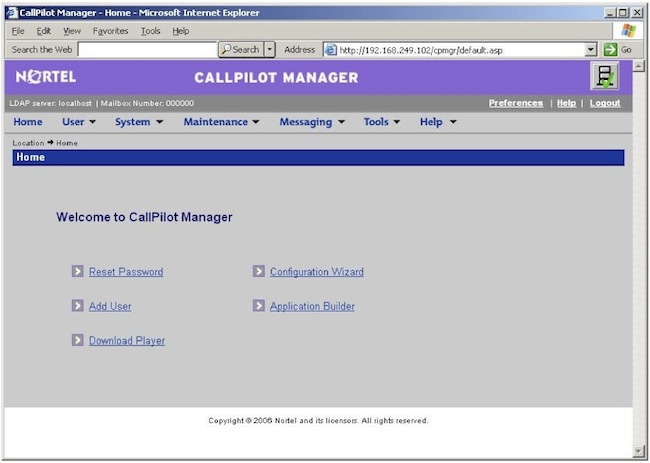 Note: Logging on for the first time forces you to change the password using numeric characters.
---
What are the default passwords?
They are...
Win2003 CP 3.0:
User ID:
Administrator
Password:
Bvw_250!#

Win2003 CP 5.0:
User ID:
Administrator
Password:
Bvw250

Windows NT:
User ID:
Administrator
Password:
abc123

CallPilot Manager:
Mailbox:
000000
Password:
124578
If you don't know the password, see: CallPilot - Lost Password Procedure
---
Dial '0' is not working
You need to set the Revert DN
Messaging > Message Management > Revert DN
Scroll down the settings to find:

This is a system wide setting, which you can set to any DN you like!
A good idea is to use a dedicated ICI Key DN, then the operator knows the caller zeroed out of CallPilot.
---
Who is the CallPilot voice?
It's Joan Kenley, a k a "Meridian Mary" or "Phantom of the Operator."
Recognized as the "voice of voicemail", her distinct warm, friendly voice, is used for:
CallPilot and Meridian Mail
Pacific Bell Message Center
Verizon Information Services
Sprint Spectrum PCS
Joan's voice has appeared in numerous television and radio commercials, The Simpsons, South Park, and more.
You can also hear her on The Joan Kenley Show podcast.
---
How can I access Voicemail externally
To enable mailbox users to access their Voicemail externally, first set up a DID as an SDN routed to Voice Messaging Services.
Then go to Messaging and select Security Administration to setup "Logon to Mailbox from Telephones External to PBX" (check the box next to the parameter).
---
The Announcement time is too short
To lengthen the announcement time, goto:
Messaging > Messaging Management
In the General section, change the "Maximum prompt size" to the desired length. Note that the Maximum prompt size limits Announcements, Thru-dial greetings and menu recordings. Use "Minimum Length of CA Message" to avoid saving mailbox hang-ups.

---
App-Builder error opening Application
Delete the cache files located on the client PC at:
C:\Avaya\CallPilot\AppBuilder\uprog
---
Show the loaded PEP's
To list the PEP's that are loaded on the Callpilot server, open the following:
Start > Programs > Callpilot > System Utilities >PEP Maintenance Utility
Click on the SHOW PEP's button.