CallPilot - Lost Password Procedure

CallPilot backdoor password reset procedure.
1 Connect a keyboard, mouse, and monitor to the CallPilot server, and then follow the instructions below.
Note that a 201i (with PS2 connectors) may need a restart to recognise the keyboard and mouse.
- or -
This procedure can be performed remotely, from a RDC console with the /admin switch.
To correctly configure the RDC client (console mode), see CallPilot Remote Desktop.
Alternatively, start RDC from: Start ➜ All Programs ➜ Accessories ➜ Run
In the Open box, type mstsc /admin (or type this in the Start search box).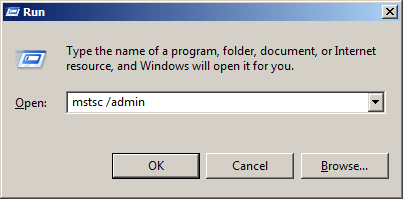 2 Login to Windows, default passwords below:
| Platform | User ID | Password |
| --- | --- | --- |
| Win NT: | Administrator | abc123 |
| 2003 CP3: | Administrator | Bvw_250!# |
| 2003 CP5: | Administrator | Bvw250 |
If the password has been changed, and is not known, you may have to re-image CallPilot.
3 When logged in, on the server go to -
Start ➜ Programs ➜ Call Pilot ➜ System Utilities ➜ Support Tools
Login with one of the following:
User ID:
distributor
Password:
<ZagUNot:9
- for NT4 (early) systems
"
d</\>ST*cp3
- for CP3 systems
"
d</\>st.CP4
- for CP4 systems
"
%d</\>St.cP5
- for CP5 systems
- or -
User ID:
tas
Password:
!TazIYex.4
- for CP2 systems
The password must be entered exactly shown, with case and special characters.
When the password is correctly entered, the Support Tools 'main' menu will appear: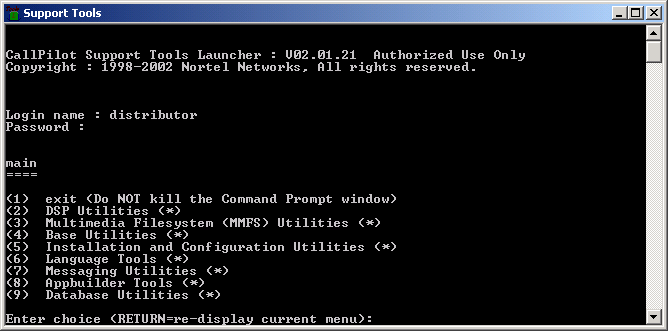 From the Support Tools Main menu...
Choose 9 for Database Utilities
Then choose 3 for Database API utility
A new window opens, and at the CI prompt type :
CI> resetadminpwd
CI> quit
This window closes, hit return, then 1 to Quit and exit.
4 Open a browser window, and log into CallPilot Manager using the default 000000 and 124578.