202i install/re-image
Locate the installation media (DVD or USB Thumb drive), keycode sheet, and PBX TN information.
The basic Callpilot 202i installation/re-imaging process is as follows:
Change the BIOS Boot Options to start up from the installation media.
Follow the prompts to install the Callpilot 2021 server image.
When finished, restore the 202i BIOS to "factory defaults"
Creating a USB Drive for CallPilot Windows 2003 Server:
This step is entirely optional, but it significantly speeds up the installation/re-imaging process (eg, 6 mins vs. 26 mins), and you don't need to find an external USB DVD drive. I recommend creating a 4GB Callpilot 202i installation USB Thumb drive, and keeping it safe for rapid deployment!
If you wish to skip this step, connect an external USB DVD drive with the DVD inserted, and change the BIOS Boot settings (step 3).
1Open DISKPART by typing the command into the start menu search box.
BECAREFUL! Risk of data-loss. Drive partitioning is destructive, and DISKPART takes no prisoners.
Carefully, enter the following commands:
| | |
| --- | --- |
| list disk | - identify the USB flash drive, eg: disk 1 |
| select disk 1 | - select the drive and shift focus to it |
| clean | - remove all partitions and formatting (!) |
| create part pri | - create new primary partition |
| select part 1 | - select the primary partition |
| active | - make the primary partition bootable |
| format fs=fat32 quick | - format the primary partition |
| exit | - leave diskpart |
The steps are shown below:
2Copy the following files and directories from the DVD Disc to the USB drive: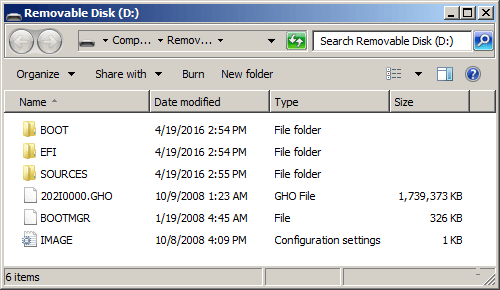 3Plug the flash drive into a Callpilot USB port, and press the reset button.
Hit Del (several times) to enter the pre-boot menu. Hit <enter> for the System Setup Utility
In the Boot Device Prioritization screen, select the USB flash drive as first choice.
Select Exit, select Save Settings and Restart.
| | | |
| --- | --- | --- |
| System Setup Utility | Boot Device Prioritization | Save Settings and Restart |
4If you successfully boot from the USB flash drive, an Install menu appears. Choose the following options:
| | | |
| --- | --- | --- |
| 1 - Install CP from image | N - Are you Upgrading? (No) | Y - Start installing (Yes) |
If you answered correctly, the Symantec Ghost window should appear, with a big progress indicator.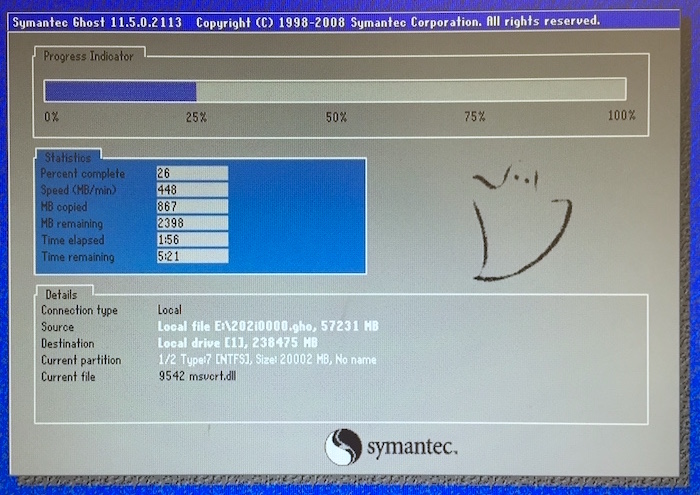 5When the Ghost image is complete, Callpilot will reboot several times.
Finally, the windows login screen appears, login with Administrator and Bvw250
Don't forget to Restore Factory Defaults in the BIOS.