Power Fail Transfer / Bypass
PBX power-fail-transfer units (PFTU's) will re-direct an analog trunk to an analog phone (bypassing the PBX), allowing an analog phone to still make and receive trunk calls in the case of a PBX failure. The units are basically just double pole/double throw relays, activated by a voltage. Typically, each unit contains eight such relays, allowing it to re-direct upto eight analog circuits.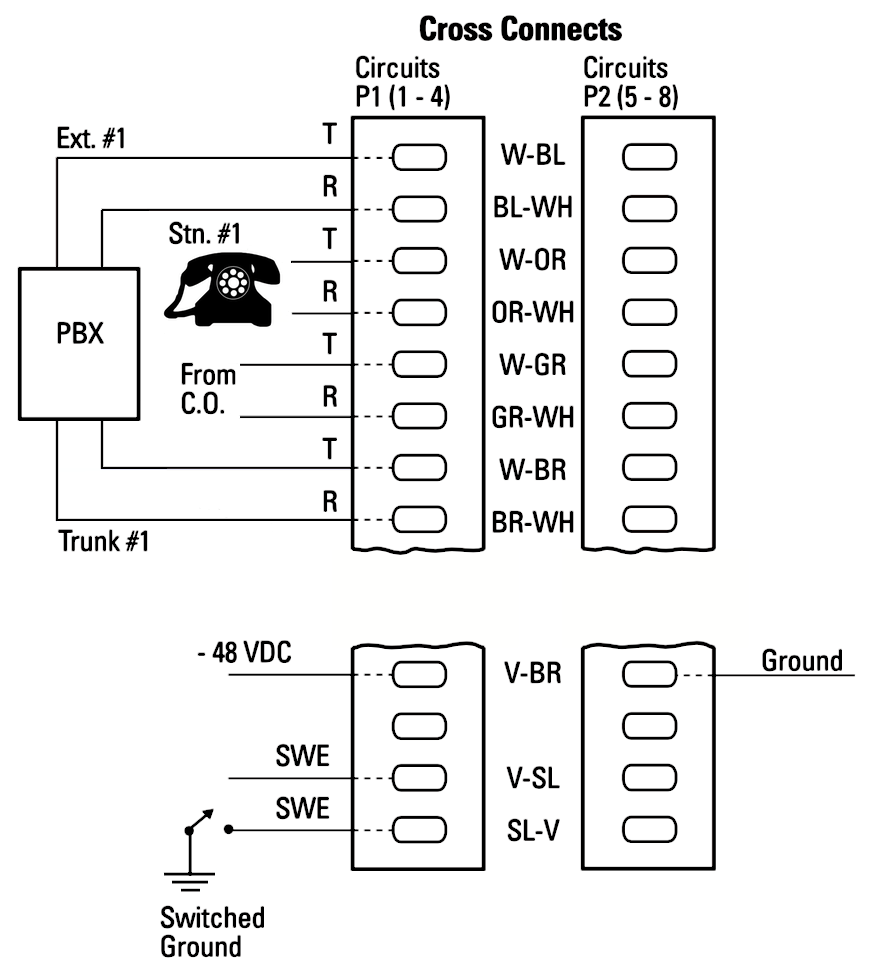 Today, with most PBX's having digital trunks, and most users having digital phones, PFTU's are of limited interest. Although, consideration should be given to analog hallway and elevator phones in the event of an emergency or PBX failure.
Typical Wiring
Identify the appropriate Power Fail block, and run jumpers as described below. Each single power fail by-pass circuit will require up to 4 jumpers. Each 25 way block supports just 4 by-pass circuits. Each unit supports 8 circuits (P1 and P2).
1st pair ➤ PBX station TN - connects to the analog PBX port TN
2nd pair ➤ Station Cable - connects to the analog phone
3rd pair ➤ PTT trunk - connects to the CO trunk
4th pair ➤ PBX trunk TN - (if applicable) if the trunk is shared with the PBX, run this to the trunk port TN.
Power is supplied on pin 49 of both connectors, P1: negative - P2: positive (PBX ground must also be tied to Pin 24 of P2).
To remotely Activate Bypass, ground pin 50 (SWE) of connector P1
Note: If a Shumway SBI-217-25 (42VDC @ 300mA) pair is used to supply power to a DEES Models 154, Tip connects to P1 pin 49, Ring connects to P2 Pin 49.
Meridian System Monitor wiring:
NT8D22 System Monitor:

Ground pin 8 of NT8D46BH cable
Connect pin 7 to P1 pin 50 (SWE)

NT7D15 System Monitor (Option 21A):

Ground pin 9 of NT8D46BH cable
Connect pin 4 to P1 pin 50 (SWE)

M2250 Attendant Console Activation:

Ground pin 36 of the console cable
Connect pin 11 to P1 pin 25 (SWE)
BIX Label
Download the template: PFTU DCE Model 154


Model 154, 154A Notes
DEES Models 154 (48VDC) and 154A (24VDC) provide bypass for up to 8 analog trunks during a PBX or power failure. Multiple units can be connected to handle more than 8 trunks.

Units can be activated by power failure, a manual bypass switch, or a ground from a local or remote location. The Model 154 can also control auxiliary equipment via two sets of relay contacts (NO and NC).

In the event of a power failure at the PBX the Bypass Interface automatically bypasses the PBX system and switches eight C.O. trunks to the preselected stations.

When bypass is no longer required, a loop usage monitor circuit restores only the idle trunks.
Active trunks remain in bypass mode until completion of the present call, and are then restored.

Presence of power at the PBX is indicated by a red L.E.D. mounted on the front of the unit.

A manual switch allows local control of the Bypass. The normal position allows control by the presence of power at the PBX, the bypass position puts all 8 channels into the bypass mode.

Two 25 pair industry standard Amphenol (male) connectors on the side of the unit provide all connections required for C.O. Trunks, PBX Trunks, Station Telephones and PBX Extensions.
P1 Wiring

Pin
Wire
Colour
Des
26
1
White-Blue (Tip)
Blue-White (Ring)
EXT
1
27
2
White-Orange
Orange-White
STN
28
3
White-Green
Green-White
CO
29
4
White-Brown
Brown-White
TRK
30
5
White-Slate
Slate-White
EXT
2
31
6
Red-Blue
Blue-Red
STN
32
7
Red-Orange
Orange-Red
CO
33
8
Red-Green
Green-Red
TRK
34
9
Red-Brown
Brown-Red
EXT
3
35
10
Red-Slate
Slate-Red
STN
36
11
Black-Blue
Blue-Black
CO
37
12
Black-Orange
Orange-Black
TRK
38
13
Black-Green
Green-Black
EXT
4
39
14
Black-Brown
Brown-Black
STN
40
15
Black-Slate
Slate-Black
CO
41
16
Yellow-Blue
Blue-Yellow
TRK
42
17
Yellow-Orange
Orange-Yellow
43
18
Yellow-Green
Green-Yellow
44
19
Yellow-Brown
Brown-Yellow
45
20
Yellow-Slate
Slate-Yellow
46
21
Violet-Blue
Blue-Violet
47
22
Violet-Orange
Orange-Violet
48
23
Violet-Green
Green-Violet
49
24
Violet-Brown
Brown-Violet
Power (neg)

50
25
Violet-Slate
Slate-Violet
SWE
SWE

P2 Wiring

Pin
Wire
Colour
Des
26
1
White-Blue (Tip)
Blue-White (Ring)
EXT
5
27
2
White-Orange
Orange-White
STN
28
3
White-Green
Green-White
CO
29
4
White-Brown
Brown-White
TRK
30
5
White-Slate
Slate-White
EXT
6
31
6
Red-Blue
Blue-Red
STN
32
7
Red-Orange
Orange-Red
CO
33
8
Red-Green
Green-Red
TRK
34
9
Red-Brown
Brown-Red
EXT
7
35
10
Red-Slate
Slate-Red
STN
36
11
Black-Blue
Blue-Black
CO
37
12
Black-Orange
Orange-Black
TRK
38
13
Black-Green
Green-Black
EXT
8
39
14
Black-Brown
Brown-Black
STN
40
15
Black-Slate
Slate-Black
CO
41
16
Yellow-Blue
Blue-Yellow
TRK
42
17
Yellow-Orange
Orange-Yellow
43
18
Yellow-Green
Green-Yellow
44
19
Yellow-Brown
Brown-Yellow
45
20
Yellow-Slate
Slate-Yellow
46
21
Violet-Blue
Blue-Violet
47
22
Violet-Orange
Orange-Violet
48
23
Violet-Green
Green-Violet
NO
NO1
49
24
Violet-Brown
Brown-Violet
Power (pos)
PBX Ground
50
25
Violet-Slate
Slate-Violet
NC
NC1