Recover the Keycode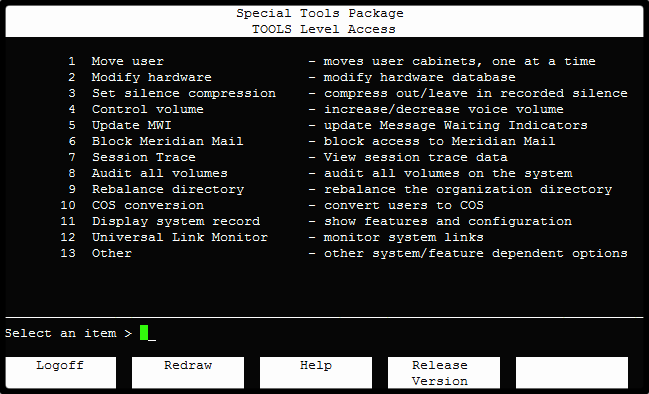 Often the Meridian Mail Keycode sticker is nowhere to be found! But, if the system is up and running, it's possible to recover the Keycode (and archive it) before disaster strikes, eg, when re-installing after a hard drive failure.
Open a TTY session with Meridian Mail
Hit logon (F1), at the password prompt, type tools
Enter the system admin password when prompted.
- the Tools level menu (right) is displayed.
Select 11. Display system record
Paste the information into a file (or print it) for safe keeping.
- the Keycode is item 35 in the example below.
Always keep a copy of the Meridian Mail Keycode safe somewhere!
Note: The Serial Number (item 2) must match the PBX Security ID (TID) in order for Meridian Mail to work. It's possible to Change an Option 11c TID for testing or as a temporary workaround while waiting for a replacment keycode.
System Record Example:

 1: Customer Name        : MeridianMail
 2: Serial Number          : 10242659
    Original Serial Number : 10142659
 3: Platform             : Entopia Card Option
 4: Hours on System      : 10         5: Release Number          : 12.14.0
 6: Number Of Nodes      : 1          7: Max allowed Languages   : 1
 8: Maximum Full Service : 8          9: Basic Service           : 0
10: Minimum MultiMedia   : 0         11: Voice Channels          : 8
12: Physical Channels    : 8         13: SMDI Link               : No
14: Meridian ACCESS      : Yes       15: AdminPlus               : Yes
16: AMIS                 : No        17: Hospitality             : No
18: Networking           : No        19: NMS                     : No
20: OutCalling           : No        21: Voice Forms             : No
22: VMUIF                : No        23: Multi ADMIN             : No
24: Meridian Connections : No        25: Multi SMDI              : No
26: Multi Customer       : No        27: Dual Language Prompting : No
28: Voice Menus          : Yes       29: Fax On Demand           : No
30: Central Call Answer  : No        31: Integrated Mailbox Admin: Yes
32: MMail AutoAdmin      : No        33: Text Notification       : No
34: Maximum NMS Locations: 0
35: Keycode              : WX41 V3MG T5QJ 9L4D YQZE
Do you want to view the disk information? No
Press RETURN to continue:  <Press RETURN>