Internet Explorer settings
Release 6 does not support Internet Explorer 7.0 and above.
Release 7 supports Internet Explorer 6.0, 7.0 and 8.0.
Officially, the Release 7 Element Manager requires Internet Explorer 6.0.2600 or higher, and the Java Runtime environment.
However, if you use Internet Explorer 8.0, you must also configure the compatibility view setting - otherwise the tree view structure in Deployment Manager won't work:
Go to the Tools menu and select Compatibility View Settings.
On the Compatibility View Settings page, select Display all websites in Compatibility View.
Click Close.
IMPORTANT! Internet Explorer webpage caching must be turned off in order to see EM changes.
IE7 on Windows 7:
You can't install Internet Explorer 7 (or downgrade to IE7 from IE8) on Windows 7, but you can run it inside Internet Explorer 8 (as the rendering engine is bundled) by doing the following (Note: This method also works in IE 9):
Open Internet Explorer 8
Open Tools ➤ Developer Tools (or press F12)
Set both Browser Mode and Document Mode to IE7
Internet Explorer settings: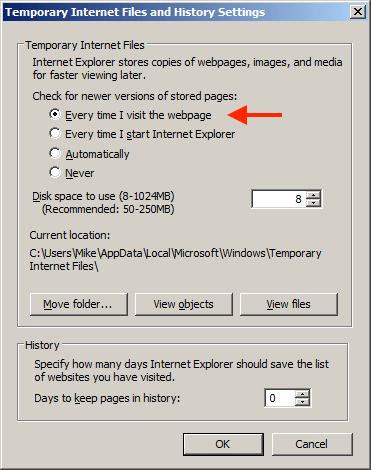 1 Select View, Text Size, Medium to configure the text size in the browser.
2 Select Tools ➤ Internet Options in the Internet Explorer browser window.
3 Turn off Internet Explorer caching:
On the General tab under the Temporary Internet files section, click Settings.
Under the Check for newer versions of stored pages section,
- select Every visit to the page.
Click OK.
4 Configure empty session information:
Select the Advanced tab.
Under Security,
- select Empty Temporary Internet Files folder when browser is closed.
5 Clear the AutoComplete options.
Select the Content tab.
Under Personal Information, click AutoComplete.
Under the Use AutoComplete for section, clear Forms and User names and passwords on forms.
Additional setup:
With Release 7.5 (and newer) you'll also want to:
IE 11 Update:
"I just got our IE11 working I had to turn off TLS1.0 & TLS1.1 and turn on SSL3.0 then all good. The System Manager needs TLS1.2 on and then the Element managers need SSL3.0 under the IE Settings/Advanced. For some reason the 2 TLS settings I disabled were stopping the Element Manager opening."
Source: Problems connecting to UCM with IE 11 - Nortel: CS1000 (Meridian) systems - Tek-Tips