CS1000E Rls. 7.5 Installation
8. Perform basic CS1000 configuration
Continuing with EM as the base from which to configure the system, the CS must get configured in preparation to add Media Gateways (MG) and Virtual Trunks (VTRK).
Remove legacy Conf/TDS loops:
From the Core Equipment/Loops link, delete 0 and 16.
Select the radial button on the left and click Delete.
Repeat for both loops.

The customer data block (CDB) is needed to add VGW channels on an MGC. Complete CDB configuration can be done later.
Add the CDB:
Navigate to the Customers section.
Click Add...
Enter Customer number: 0.
Enter any three digits for ANI Attendant Billing number: and any four digits for ANI Listed Directory Number:
Click Save.

Add the DDB and have a threshold built prior to building zones:
Navigate to Routes and Trunks/Digital Trunk Interface:
Click on the Digital Trunk Interface Data Block (DDB)
Click OK to add a DDB.
Leave the default index 0 and click to Add.
Leave everything default and click Submit.
A typical installation might use two zones, zone 1 for MO, which is used for media gateways and IP sets, and zone 10 for VTRK. There may be times when additional zones are needed or wanted.
Add two zones:
Navigate to IP Network/Zones:
Click Bandwidth Zones.
Click Add...
Enter a zone number, confirm the Zone Intent is what you want for this zone, enter a Description and click save. Repeat for any other zones needed.

For Example: (Don't use zone 0).
Zone 1 - Intent = MO (Best Quality) - Assigned to Media Gateways / phones
Zone 2 - Intent = VTRK (Best Quality) - Assigned to Virtual Trunks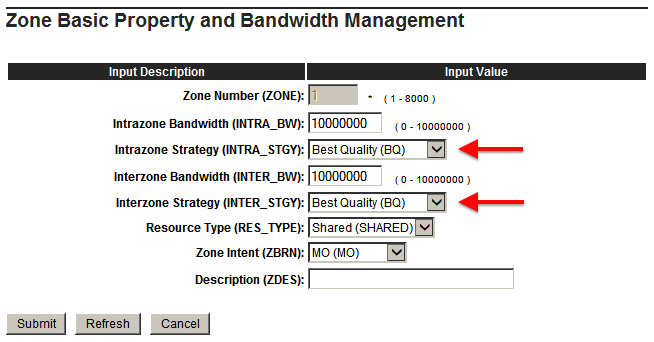 Zones are used by Communications Servers to determine what codec to use. If all media gateways are in the same equipment room, communicating via 100MB/1GB connections, there is no concern of limited bandwidth. Using a G.711 codec provides the best quality while using the least compression, largest payload. If there are media gateways in another room or building connected with fiber over a similar 100MB/1GB trunk, this can also use a G.711 codec. When the connection between media gateways is across a WAN, the Internet or perhaps a smaller, leased line often found shared with Data, this is when a more compressed codec is used, G.729.
The administrator selects which codec to use indirectly. First, the codecs available are selected while building the media gateways and the signaling servers. The system automatically recognizes which has more or less compression, lower or higher bandwidth usage respectively.
Personal Directory
In order for last-number redial and caller-log softkeys to appear on IP sets, make sure the following are entered:
IP Network ➤ IP Telephony Nodes ➤ Personal Directories (PD)
Check box next to Personal Directory Server: Enable Personal Directory (PD) service on this node.

IP Network ➤ Personal Directories ➤ Server Configuration
Enter the ELAN Signaling Server IP address at Server IP Address
Personal Directory was enabled on the NODE in the previous section.
Make sure that the ELAN SS IP address is entered correctly in the Personal Directories ➤ Server Configuration.