EM Upgrade IP Phone FW
There are two ways to upgrade/update IP Phone Firmware:
via a TFPT server and .cfg files,
via the Element Manager, the method described here.
1 Obtain the latest firmware .bin files, and the readme PDF file, which is useful to determine which file is for which phone type.
Software for Avaya IP Deskphones is available from https://support.avaya.com/downloads/. Select Downloads, and enter a product name, eg: 1100 Series IP Deskphones in the search box. From the Choose Release pull-down menu, select UNIStim 5.x. Sort results by Date.
2 Open the readme file, and scroll down to the Model/Software table. For example: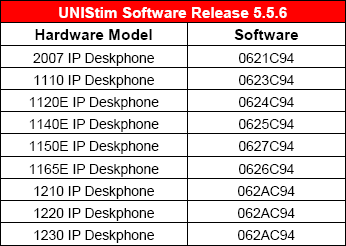 3 Open Element Manager, and login.
Navigate to: System ► Software ► IP Phone Firmware
4 Click the radio button to select a phone type, and click Update....

5 Reference the table (step 2), and Browse... to the appropriate firmware .bin file for this phone-type. Click Upload.

6 When the file has uploaded, confirm the version and supported phones, then click Update to 'distribute' the file to the Signalling Servers. When the status is Completed, click Done.
7 In the IP Phone Firmware screen confirm that the 'TPS Firmware' version is updated.

8 Go back to step 4, and repeat until all phone type firmwares have been updated.
9 Finally, power-cycle a phone to force it to download and update its firmware from the Signalling Server.
10 Miller time...