Baystack 470 - Configuration


Nortel Baystack 470, 48T 48-Ports 10Base-T, 100Base-TX, 2 x GBIC
Introduction:
Before you can use the GUI for configuration, you must set an IP address for the switch using a DB9 cable connected to the front panel console port (9600 8-N-1).
Connect a TTY (9600 8-N-1) to the switch Console port.
Power-up the switch.
After the Nortel logo is displayed, press CTRL-Y to display the Main Menu.
Select IP Configuration/Setup and press return, or press i from the main menu.
For a stand-alone switch, in the In-Band Switch IP Address field, enter the IP address of the switch..
For a stack configuration, in the In-Band Stack IP Address field, enter the Stack IP address.
In the Default Gateway field, specify the default gateway address.
Press CTRL-C to return to the main menu.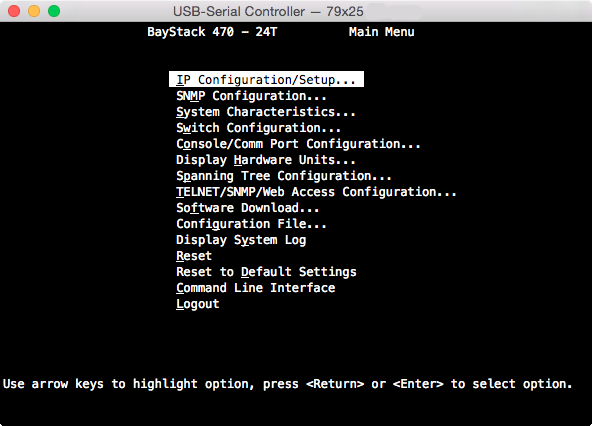 Baystack 470 - Main Menu
You can now open the switch IP address in a web-browser, and use the GUI interface for configuration.
Configure for CS1000E:
Configure using the web-based GUI: Odd ports ELAN even ports TLAN.
Click on applications
Click on Spanning Tree
Click on Port Configuration
Disable all ports except 47 and 48, change 47 and 48 to Normal Learning
Click on VLAN
Click on VLAN Configuration
Click on Create VLAN
Create VLANS as in the regular manner. Make sure ports 47 and 48 are checked for the ELAN.
Also, when you do port assignment for the TLAN make sure you check ports 47 and 48 for the TLAN.
Enable PVID
Click on VLAN Port Configuration, Change all the even number ports to PVID 2.
Even number ports are my TLAN. Odd number ports go to PVID 1 which is my ELAN. Ports 47 and 48 go to PVID 1.
Tagging on drop down menu for ports 47 and 48 change to TAG ALL
Click on Multilink Trunking
Click Group
Trunk 1 add members 47 and 48
Set STP Learning to Normal
Set Trunk Status to enabled.
You are finished, LOGOUT
If you log back in to check the status of the ports and you see that 47 and 48 have changed their PVID from 1 to 2, this is normal, it has to do with the traffic that is going across the link.
You do this on each Baystack. On step 14 if you have a remote site then you will add members for Trunk 2.
You will have to use the fiber cables that are sent, the patch cables will not pass all of the information that is needed.
(With this configuration you will not need an ELAN xover cable to connect ELAN to ELAN in the Baystacks. You would also need to connect a loop from Baystack 1 to 2, 2 to 3, and 3 to 1.)