UCM Password Reset
---
NOTE: If you have the password, but get a "OVL0428 - User authentication to CS1000 call server failed..." error, try this first:
Login to SS0 as admin2 (TTY via SSH)
Enter: appstart Jboss-Quantum restart (case sensitive, no service impact)
Wait for the TTY message "UCM is now ready to use" (takes about 5 minutes)
Try to logon on the UCM from the browser.
---
Procedure to reset UCM admin (Secure Domain) password.
If the UCM admin password is lost, locked out, or expired, use the following procedure to log-in locally with an emergency account (admin2) and reset it. On completion, log into the CS with the new admin password and Check Registered Elements.
If you want to reset/change the local-login root/admin2 password(s), refer to: Linux Base Password Reset.

The following steps are performed on the
TLAN
.
The "Change Password" function is
TLAN
only.
Preparation:
The PC hosts file must resolve the <fqdn> to the TLAN address of the Primary Security Server.
If you cannot ping <fqdn>, check the hosts file as follows:
In Windows, open the hosts file in Notepad: C:\Windows\System32\drivers\etc\hosts
In Mac OS X, to edit the hosts file, open a terminal session and enter: sudo nano /etc/hosts
Connect to the TLAN, and confirm you can ping <fqdn> before proceeding.
Note: To access the CS from the TLAN, SSH into the UCM, and enter cslogin. End the CS session with ~. (tilde, fullstop).

From a PC connected to the TLAN:
1 Open a web browser, and enter the URL: https://<fqdn>/local-login
Log on with the default emergency account: admin2.
2 After logging in, change the browser URL to: https://<fqdn>/passwordReset and press Enter.
The "Password Reset" screen will display: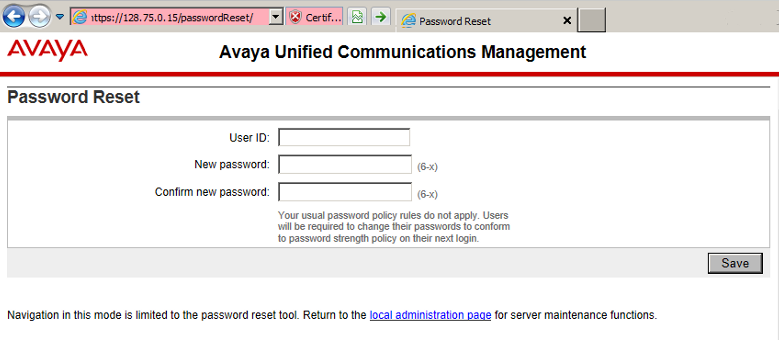 In the User ID field, type the User ID for the password you want to reset (admin).
In the New password field, enter a new TEMPORARY password (Password Policy compliant). We will change this again.
In the Confirm new password field, re-enter the new password.
Click Save. A confirmation page appears when succesful.
3 Completely close the browser program.
4 Re-open the browser, and enter the URL: https://<fqdn>/network-login
Enter the User ID and TEMPORARY password. On clicking Log In, you will see:

Login denied. The possible reasons are: This is your first login attempt. Your password is about to expire or has expired.
5 Click Change Password to change the password (again!) and activate the user account.
The following "Password Change" screen displays: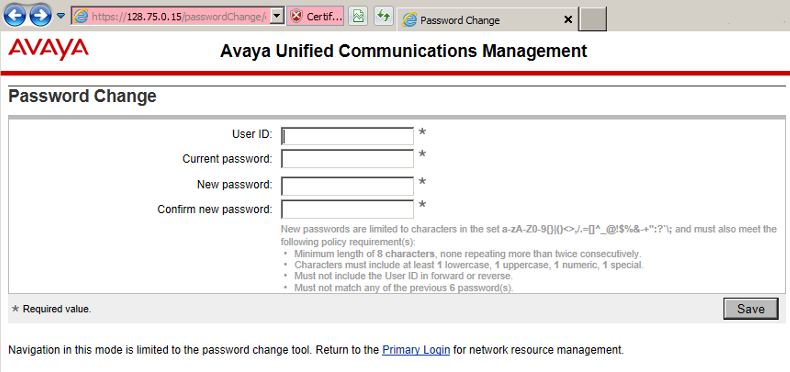 6 Click Save, and note the "User password changed successfully" message.
Completely close the browser program.
7 Re-open the browser, and enter the URL: https://<fqdn>/network-login
Login in with admin, and the new admin password.
8 OPTIONAL: to stop this happening again...
Click on Security - Policies, and edit the Password Policy as required.
For example, uncheck: Aging / History / Strength / Lockout.