QSIG PRI to CS1K
Avaya's IP500 Universal PRI Trunk Card supports up to 24 T1 channels or 30 E1 channels per interface, maximum 4 interfaces per system (2 dual modules). 8 channels (per interface) are enabled by default, additional channels require licenses.
To 'Change Universal PRI Card Line Type', right-click the appropriate Line in the left-hand pane (arrowed).
An IP Office is either A-LAW (European) or μ-LAW (US), for all interfaces (System ➤ Telephony tab).
Licenses:
IP500 Voice Networking: required to enable support for SCN, QSIG and H323 IP trunks.
IP500 Universal PRI (Additional channels): available in either 2 or 8 channel increments.
SIP Trunk Channels: to configure the maximum number of simultaneous SIP trunk calls supported.
IP Office settings:
An E1 'PRI Card Line Type' was selected for this example.
Use QSIG-B to allow Caller ID between systems, called Line Sub Type.
Enter Incoming and Outgoing Group ID's, which must also be defined
Enable CRC, remember the CS1K programming must match
Clock quality is set to 'fallback' or 'network'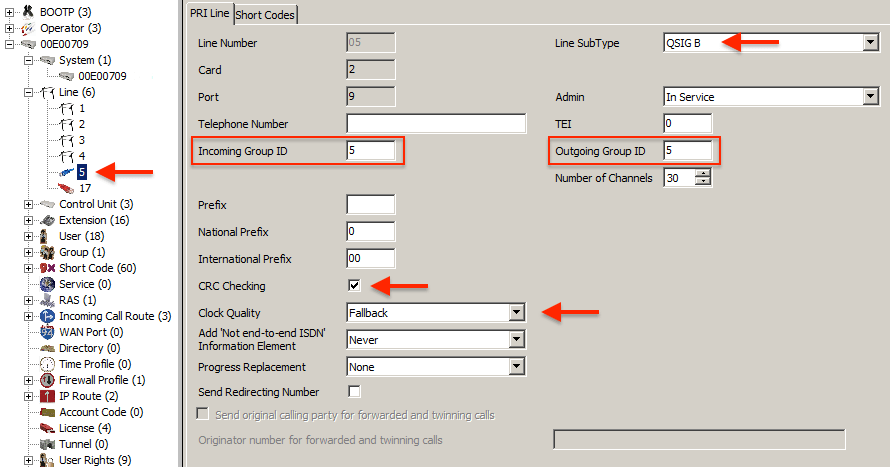 Incoming Group ID:
Create a new Incoming Group (5 in this example) sending calls to destination "."

Outgoing Group ID:
Create a new short code to send CS1K digits (21XX) to Line Group ID 5.

CS1K with an E1 PRI:
The following shows the CS1K programming for a PRI link to an IPOffice with caller ID.
Task steps:
CHG the CEQU, and add a PRI2 at MG_Card slot.
Build the D channel as an MSDL, IFC ISGF.
Enable CRC for the loop (and the PREF clock).
Build a route, DGTP PRI2, MODE PRA, and IFC ISGF.
Add the 30 trunks, TYPE TIE,
Build an RLI for the new route.
Build a steering code to use the RLI.
Bring the PRI into service and test.

Route Data (LD 16)

ROUT 201
DES  IPO_TIE
TKTP TIE
M911P NO
ESN  NO
CNVT NO
SAT  NO
RCLS EXT
VTRK NO
DTRK YES
BRIP NO
DGTP PRI2
ISDN YES
    MODE PRA
    IFC  ISGF
    SBN  NO
    PNI  00001
    NCNA NO
    NCRD NO
    CTYP UKWN
    INAC NO
    ISAR NO
    CPFXS YES
    DAPC NO
    INTC NO
MBXR NO
MBXOT NPA
MBXT 0
DSEL VOD
PTYP DTT
CNDP UKWN
AUTO NO
DNIS NO
DCDR NO
ICOG IAO
SRCH RRB
TRMB YES
STEP
ACOD 5900201
TCPP NO
PII NO
AUXP NO
TARG 01
CLEN 1
BILN NO


RDB (continued)

OABS
INST
ANTK
SIGO STD
ICIS YES
TIMR ICF  512
     OGF  512
     EOD  13952
     NRD  10112
     DDL  70
     ODT  4096
     RGV  640
     GRD  896
     SFB  3
     NBS  2048
     NBL  4096
     IENB  5
     TFD  0
     VSS  0
     VGD  6
DRNG NO
CDR  NO
VRAT NO
MUS  NO
FRL  0 0
FRL  1 0
FRL  2 0
FRL  3 0
FRL  4 0
FRL  5 0
FRL  6 0
FRL  7 0
OHQ  NO
OHQT 00
CBQ  NO
AUTH NO
TTBL 0
ATAN NO
PLEV 2
ALRM NO
ART  0
SGRP 0
ARDN NO
CTBL 0
AACR NO


DCH Settings (LD 17)

ADAN     DCH 201
  CTYP MSDL
  MG_CARD  000  0  02
  PORT 1
  DES  IPO_TIE
  USR  PRI
  DCHL 201      Associated Loop #
  OTBF 32
  PARM RS422  DTE
  DRAT 64KC
  CLOK EXT
  IFC  ISGF     For QSIG, must match route
    PINX_CUST 0
    ISDN_MCNT 300
  CLID OPT0
  CO_TYPE  STD
  SIDE NET      IP Office is USR
  CNEG 1
  RLS  ID  25
  QCHID YES
  RCAP COLP NDI CCNI PRI DV3I CTI QMWI
  PR_TRIGS DIV 2 3
           CNG 2 3
  PR_RTN NO
  MBGA NO
  OVLR NO
  OVLS NO


DSC (LD 87)

DSC  22 IPO=22XX
FLEN 4
DSP  DN
RLI  19
NPA
NXX


Timers (LD 73)

LOOP 201

MFF       CRC
ACRC      NO
ALRM      REG
RAIE       NO
G1OS     YES


RLB (LD 86)

RLI  19
ELC  NO
ENTR 0
LTER NO
ROUT 201
TOD  0 ON  1 ON  2 ON  3 ON
     4 ON  5 ON  6 ON  7 ON
VNS  NO
CNV  NO
EXP  NO
FRL  0
DMI  0
CTBL 0
FCI  0
FSNI 0
SBOC NRR
IDBB DBD
IOHQ NO
OHQ  NO
CBQ  NO

ISET 0
NALT 5
MFRL 0
OVLL 0


Trunk Members x30 (LD 14)

DES  IPO_TIE
TN   201 01  VIRTUAL
TYPE TIE
CDEN SD
CUST 0
TRK  PRI2
PDCA 1
PCML A   or MU, must match IP Office 
NCOS 5
RTMB 201 1
B-CHANNEL SIGNALING
TGAR 0
AST  NO
IAPG 0
CLS  UNR DTN CND ECD WTA LPR APN THFD SPCD
     P10 VNL
TKID
AACR NO

---
CS1K with a T1 PRI:

Route Data Block

ROUT 102
DES T1QSIG
TKTP TIE
M911P NO
ESN NO
CNVT NO
SAT NO
RCLS EXT
VTRK NO
NODE
DTRK YES
BRIP NO
DGTP PRI
ISDN YES
  MODE PRA
  IFC ISGF
  SBN NO
  PNI 00001
  NCNA NO
  NCRD NO
  CHTY BCH
  CTYP UKWN
  INAC NO
  ISAR NO
  CPFXS YES
  DAPC NO
  INTC NO
DSEL VOD
PTYP PRI
AUTO NO
DNIS NO
DCDR NO
ICOG IAO
SRCH RRB
TRMB YES
STEP
ACOD 79125
TCPP NO
TARG 01
CLEN 1

RDB (continued)


BILN NO
OABS
INST
ANTK
SIGO STD
ICIS YES
TIMR 
  ICF 512
  OGF 512
  EOD 13952
  NRD 10112
  DDL 70
  ODT 4096
  RGV 640
  GRD 896
  SFB 3
  NBS 2048
  NBL 4096
  IENB 5
  TFD 0
  VSS 0
  VGD 6
DRNG NO
CDR NO
VRAT NO
MUS NO
OHQ NO
OHQT 00
CBQ NO
AUTH NO
TDET NO
TTBL 0
ATAN NO
PLEV 2
ALRM NO
ART 0
SGRP 0
ARDN NO
AACR NO


DCH Programming

ADAN DCH 12
CTYP MSDL
MG_CARD 000 0 02
PORT 1
DES T1QSIG
USR PRI
DCHL 102
OTBF 32
PARM RS422 DTE
DRAT 64KC
CLOK EXT
IFC ISGF
PINX_CUST 0
ISDN_MCNT 300
CLID OPT0
CO_TYPE STD
SIDE NET
CNEG 1
RLS ID **
RCAP COLP NDI CCNI PRI DV3I CTI QMWI
PR_TRIGS DIV 2 3
CNG 2 3
CTR2 2 3
PR_RTN NO
MBGA NO
OVLR YES
DIDD 0
OVLS NO
T310 120
T200 3
T203 10
N200 3
N201 260
K 7


Trunk Members x23

DES QSIG
TN 012 01 VIRTUAL
TYPE TIE
CDEN SD
CUST 0
TRK PRI
PDCA 1
PCML MU
NCOS 0
RTMB 102 1
B-CHANNEL SIGNALING
TGAR 1
AST NO
IAPG 0
CLS UNR DTN CND ECD WTA LPR APN THFD HKD SPCD
P10 VNL
TKID
AACR NO