Registering i2004 sets
Collect the following information:
Main Office IP (Node IP) address
Main Office Node ID
Gateway IP address
SRG50 IP address
Sets IP address
Sets TN (on CS1000)
Sets DN (on CS1000 and SRG, usually the same)
Subnet mask
Required Port number (see below)
Also, make sure that the Main Office CS1000 and SRG50 are available on the network, the easiest way to check is to Ping them.
To access the i2004 local configuration settings:
Restart the telephone by disconnecting and then reconnecting the line cord.
When NORTEL appears on the screen, quickly press the four keys under the display, one at a time, from left to right.
If correctly done, the telephone will go into configuration mode.
Enter the Node IP (CS1000) address of the Main Office as S1. You must register with the main office before registering with the SRG. The TN and Node ID must be known for this DN as they will need to be entered when registering at the main office. This can take some time as usually new firmware must be downloaded.
Having done this, re-enter the phones configuration settings, and change S1 to the IP address of the SRG BCM 50 so the set can register with it too. The registration password is default 0000, and you will have to enter the sets DN.
CS1000 Port number: 4100 - S1=CS1000 IP address
BCM50 Port number: 7300 - S1=BCM50 IP address
Now find the set in the BCM50 -> Survivable Remote Gateway - > S1000 IP Terminal Details.
Select "Modify" and enter the MOTN (main office TN) and BUID (DN).
The MO TPS is auto-filled with the Signaling Server (NRS) IP address.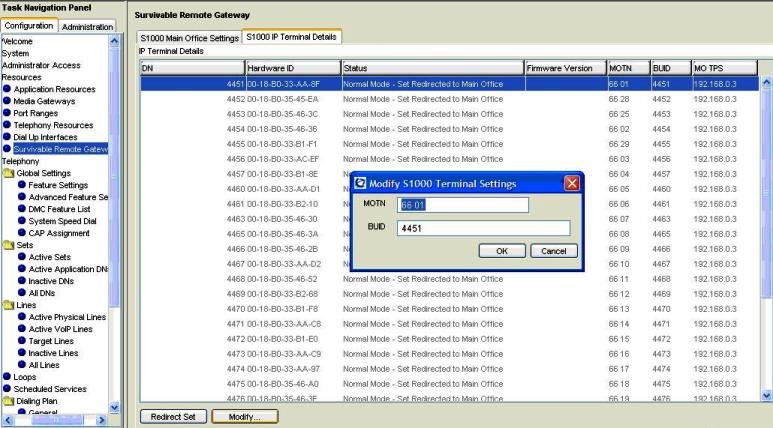 If the Main Office is available, and the parameters are correct, the set will auto forward to the Main Office. This is called Normal Mode. To force it, press "Redirect Set". If there is a DN/TN mismatch, the set will not redirect to the CS1000.
When the set is in Normal Mode, which it should be 99.99% of the time, it exists on the CS1000. The CS1000 programming controls its behavior.
If the Main Office is not available (because the WLAN is down), the set will resort to Local Mode. In Local Mode, the BCM50 programming controls its behavior.
The SRG 50 is in control of the forwarding (redirect) function, depending if the Central Office is available or not.
If the NRS is incorrect, such that the DN(s) is erroneously programmed at the originating endpoint, the set will not redirect. Make sure the NRS shows the DN's belong to the Main Office, despite the fact that they are physically located at a remote endpoint.
Note: SRG50 Analog sets are always in Local Mode, they do not redirect.