4102 Auxbox Hardware
Front Panel:

Power/USB
Winks once: USB connected.
On solid: powered up, no USB.

Norstar/BCM/Meridian1
Winks once: M1/Succession.
Winks twice: BCM/Norstar.
(may be labeled TDM)

Relay 1 / 2
Active/contact closed.

Off Hook
Phone is off-hook.

MSG Wait
MWI lamp is active.

Page
Voice call or page in progress.

Rear Panel:

USB
Connect to a PC running the ALGO Recording Software.

Power 924Vdc 0.2A
Use the supplied power adapter.

Relay 1 / 2
2.5mm mono jacks, dry contact closure outputs, configured using SW2-4.

Audio
3.5mm mono jack, analog audio output.

RJ12 Jacks
Connect digital line and telephone, or connect either to a digital PBX port.
Switch Settings:

SW1
Off
On
1
Audio Level High (default)
Audio Level Low
2
Relay Options, see table.
3
4
5
Not Used.
6
7
1 Way Audio (RX only)
2 Way Audio (default)
8
aLaw (Europe, Austrailia)
μLaw (US) (default)

Relay Options:

2
3
4
Relay 1
Relay 2
On
On
On
Ring
Off-Hook
On
On
Off
Ring
Page
On
Off
On
Ring
MSG-Wait
On
Off
Off
Off-Hook
Page
Off
On
On
Off-Hook
MSG-Wait
Off
On
Off
Page
MSG-Wait
Off
Off
On
Off-Hook
Off-Hook
Off
Off
Off
Used During Configuration
Normal Operation:
Checking the Auxbox front panel LEDs, you should see:
Power/USB: winking to indicate USB communication with the PC.
Norstar/BCM/Meridian 1: winking to indicate PBX TN connection.
(Allow approx. 8 seconds for this to show).
Lift the telephone handset (or go off-hook with the speakerphone) and check the 'Off-Hook' LED responds. This indicates that the Auxbox is working properly.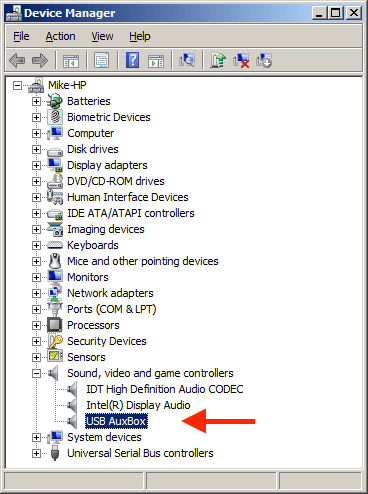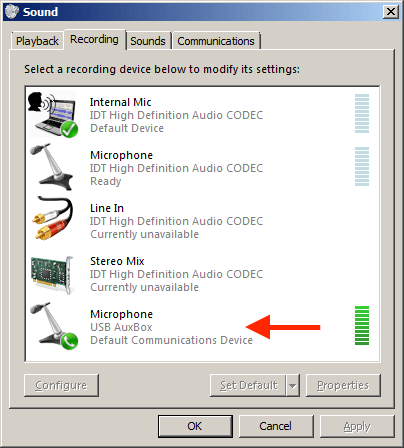 The first time an AuxBox is connected to a PC via USB, Windows will show a 'New hardware Found' message, and automatically install the required drivers. A Windows CD may be required.
Windows should install up to 3 sets of drivers: USB Composite Device, USB Audio Device, and Human Interface Device (HID).
After the USB Audio Device drivers are installed, open the device manager and confirm a USB Auxbox is shown under the Sound category. The Auxbox will also appear in the Sound control panel.