Dual PRI Installation
(Large System)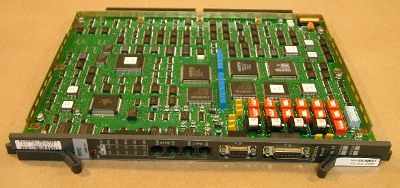 Hardware:
NT5D97AD01 - DDP2PRI/DTI Card
QPC775 - Clock Controller Card
NT6D80AB - MSDL card
Cables:
DDP2 to QPC775 uses NTC03 cables
DDP2 (J6) DCHI uses the NTCK80XX (AA=6 feet, AB=18 feet, AC=35 feet, and AD=50 feet)
DDP2 (J5) TRK uses NTCK45AA (120 ohm, 8feet) with two 9 pin male connections at the end.
Pinouts:
DB-9

2 - Black/Transmit
3 - Red/Transmit
6 - Black/Receive
7 - White/Receive

DB-15

1 - White/Transmit
9 - Black/Transmit (could be 8)
3 - Red/Receive
11 - Black/Receive (could be Yellow)
PTT (RJ48C)

1 - Transmit
2 - Transmit
4 - Receive
5 - Receive
Loopback Adaptor:
DB-9 - Short pin 2 to pin 6 and pin 3 to pin 7
DB-15 - Short pin 1 to pin 3 and pin 9 to pin 11
RJ48C - Short pin 1 to pin 4 and pin 2 to pin 5 (8-conductor Modular)
Dip Switch Settings:
MSDL Settings - Choose a Port, all DCE to ON, all DTE to OFF (Use 422-A DCE)

DDP2 Settings - Refer to DDP2 Installation Instructions
Trunk 0

S12_1- OFF-120 ohms (ON-75 ohms is used if using coax cable)
S12_2- Spare
S12_3- Spare
S12_4- ON for PRI2/Off for DTI2

Trunk 1

S7_1- OFF-120 ohms (ON-75 ohms is used if using coax cable)
S7_2- Spare
S7_3- Spare
S7_4- ON for PRI2/Off for DTI2
Software:
Step 1. CEQU
LD 17

REQ: CHG
TYPE: CEQU
PRI2: L (New PRI Loop number L)
Step 2. Build D- Channel
LD 17

REQ: CHG
TYPE: ADAN
ADAN: NEW DCH X
CTYP: MSDL
DNUM: X (0-15)
PORT: X (0-3)
DES:
USR: PRI
IFC: EURO (try EURO first- APAC may work in Asia)
DCHL: X (PRI Loop Number)
DRAT:
SIDE: USR (If setting up TIE, one side is USR the other is NET)
RLS: 25 (If not connecting to a Nortel CO switch-enter through)
RCAP: MSL?
Step 3. Build Route
LD 16

REQ: NEW
TYPE RDB
CUST 0
ROUT X
DES: PRI1
TKTP: DID
RCLS EXT
VTRK NO
DTRK YES
DGTP PRI2
ISDN YES
MODE PRA
IFC: EURO (Must match D-channel)
CNTY: ETSI
PNI 1 (1 if connecting to another PBX/0 if connecting to PTT)
NCNA YES
NCRD YES
DSEL VOD (May also try VCE)
ICOG IAO
SRCH RRB
TRMB YES
ACOD 5601
TARG 01 02 03 04 05 06 07 08 09 (these station TGAR's cannot access the ACOD)
IDC (YES - only if using Incoming Digit Conversion)
CDR YES
INC YES
LAST YES
OAL YES
AIA YES
MUS YES
MRT 21
Step 4. Build Trunks
LD 14

REQ: NEW 30 (build all 30 channels at once)
TYPE: DID
TN X 0 (LOOP AND CHANNEL)
DES (eg: PRI1)
CUST 0
TRK PRI2
PCML A (Note: A = overseas / MU = the US)
NCOS
RTMB X 1 (Route number and first member)
CLS DTN
Step 5. LPTI (Loop Timers)
LD 73

REQ: NEW
TYPE PRI2
FEAT LPTI
LOOP L (Loop)
MFF CRC (sometimes AFF)
Step 6. SYTI (Clocking)
LD 73

REQ: NEW
TYPE PRI2
FEAT SYTI
CCO
PREF L (Loop)
SREF L (Loop)
CC1
PREF L (Loop)
SREF L (Loop)
Step 7. CLID
(NET_DATA)

LD 15

REQ: CHG
TYPE NET
CUST 0
ISDN YES
ENTRY 0
HLCL (Digits to be inserted before DN on CLID)
DIDN (Set to No so DN is not sent out/ Set to Yes so DN is sent out)
Note: LDN0 must be defined (LD 15) for ISDN PRI DID service. The length of LDN0 determines the number of trailing digits translated as the dialed DN on PRI DID routes.
Step 8. Clock Tracking
LD 60

.TRCK (PCK = Primary clock / SCLK = Secondary clock / FRUN = Freerun)
Step 9. PRI Startup
The MSDL / DCH will need a forced download (FDL) the first time its brought into service.
LD 96

STAT MSDL X
ENL MSDL X FDL
STAT MSDL X

ENL DCH X

LD 60

STAT
ENLL X (Loop)
STAT X
LCNT X
RCNT X
SSCK X